---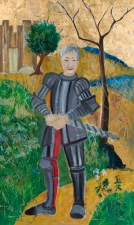 "Imaginare"
Realistic landscapes and glorification of the human being characterize art from the Renaissance and set it apart from the High Gothic. Gentile da Fabriano paints the Tuscan landscape as the backdrop for his Visit of the Magi. The Madonnas of Raphael and Michelangelo are real peasant women. Frescoes in the de Medici palazzo are filled with family portraits; and Masaccio and Masolino painted Quattrocento Firenze as the setting for their cycle of St. Peter's miracles in the Capella di Carmine. Contemporary urban meets Renaissance in my humble effort to continue with this tradition.
---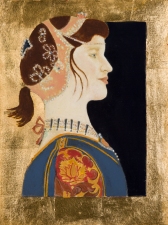 "I Gioelli"
Autumn 2012 was sublime. My little dog and I settled into a flat in a 19th Century building Oltrarno and entered our Italian life. After locating an art studio familiar with traditional egg tempera technique, I immersed myself in Renaissance images, choosing some of my favorite artists as inspiration: Uccello, Filippo Lippi and Botticelli, and some of my favorite people as models.

---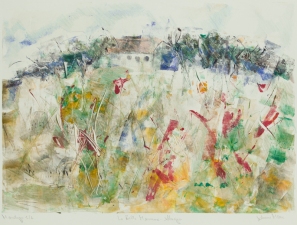 "Le Colline Toscana"
In the early years, I spent time in a peaceful hamlet south of Firenze in the val di Casentino. Expat friends had lovingly renovated, Giogalto, a medieval stone village perched atop a hill. I was lucky enough to share their results, staying in one of the stone cottages for several summers. The champagne colored light of July and August in Tuscany bathes my soul; and the views are beyond lovely. Thirsty for the Tuscan countryside, I made some abstract mixed media monotypes to satisfy me until I could return to those cypress trees and poppy filled meadows.
---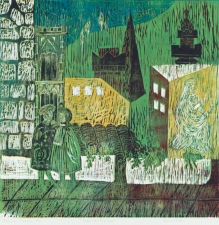 "From the Terrace"
Standing on my rooftop terrace near the piazza Santa Croce, I could peek at the tower of the Palazzo della Signoria, and the very top of Giotto's Campanile. As I developed images of these monuments for a reductive woodcut, my imagination took flight. I could "see" all of the towers of Firenze--and even the colline to the south of the city across the river. Figures from Masolino's St. Peter Healing the Sick at the Capella di Carmine appeared. An ordinary terrace on via Giovanni da Verazzano overlooking a boring contemporary apartment building became a magical lens through which I captured a vision of the entire region.